MARK & VIRGILENE

This is the story of how I met my sweetheart. Mark and I met on ICQ. I was having problems with my sound and my best friend Megg introduced me to him. He helped me to get my sound working and we started talking. We talked on ICQ everyday after that.

About a week later Mark asked if he could call me. We talked for about an hour and I knew then that I was in love. After that we talked either on ICQ or the phone everyday. Our only problem was that he was in Maryland and I was in Kansas. So, about a month later he flew me out to meet him. I was both scared to death and excited!! Needless to say it was the best week of my life. I dreaded the time coming when I had to leave.




When I left to go back home Mark and I both thought we would never see each other again. I cried all the way back on the plane. Both of us were miserable. He had a job there. I had my kids here. He asked me to please wait for him. If I gave him some time he could come to be with me. Well.....I couldn't wait. 2 weeks later I packed up the kids and moved to Maryland. We were finally together again.





The only bad thing about it was all my family was still in Kansas. I knew nobody in Maryland really but Mark. About 4 months later things got so bad I packed up the kids again and moved back to Kansas. Again we thought we'd never see each other again, but it must be fate that we be together....only about a month or so later he got a transfer to a store here and moved to Kansas to be with me.




Now we are together again and things are going good. He's wonderful with my kids and they love him as much as I do.




So you see you can find love on the net.





UPDATE
AUGUST 11, 2001 MARK AND I WERE MARRIED IN PARIS, TENNESSEE :)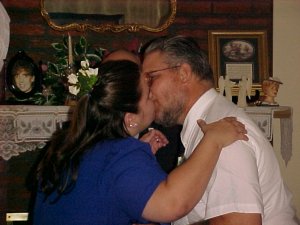 Click here to see the page Mark made about us.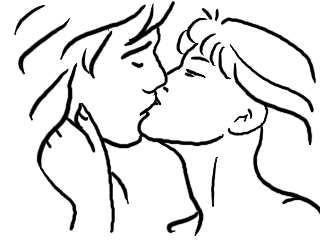 LOVE

As I ventured into the unknown

I had a question asked of me :

What is love ?




Such a simple question.

It shouldn't take much time.

A simple 4 letter word.

Why is it so hard to define ?

What is love ?




Alone, I have searched for the answer,

Alone, I am perplexed !

Can it be so difficult

that you just can't do it detached ?

What is love ?




Where does it come from ?

Where does it go ?

Why am I lost here ?

It confuses me so.

What is love ?




The opportunity arises

when you meet someone new.

How can I love you

If I don't know what to do ?

What is love ?




Is it that warm, fuzzy feeling

that I feel deep inside ?

Is it a gladness

that I just cannot hide ?

What is love ?




Is it a feeling ?

Is it just something you do ?

Is it a life-style ?

I haven't a clue !

What is love ?




What is the difference

between love and lust ?

I really don't know,

and I'm scared that I'll bust !

What is love ?




How do you know if you're in love,

if you can't even define that blessed four letter word ?

What is love ?






---


I KNEW I LOVED YOU

Maybe it's intuition

But some things you just don't question

Like in your eyes

I see my future in an instant

And there it goes

I think I've found my best friend

I know that it might sound more than a little crazy

But I believe



I knew I loved you before I met you

I think I dreamed you into life

I knew I loved you before I met you

I have been waiting all my life



There's just no rhyme or reason

Only this sense of completion

And in your eyes

I see the missing pieces

I'm searching for

I think I've found my way home



I know that it might sound more than a little crazy

But I believe



I knew I loved you before I met you

I think I dreamed you into life

I knew I loved you before I met you

I have been waiting all my life



A thousand angels dance around you

I am complete now that I've found you



I knew I loved you before I met you

I think I dreamed you into life

I knew I loved you before I met you

I have been waiting all my life



Savage Garden


---

virgilene1@satelephone.com




YOU CAN LOOK AT MY OLD GUESTBOOK HERE